Course trip to Margate to visit the Turner Contemporary, Carl Freedman Gallery and Limbo Project Space.
First we saw the four works shortlisted for the Turner Prize 2019 and the students Platform 2019 at Turner Contemporary, then we went to Carl Freedman Gallery and studios to see Gossamer, a show curated by Zoe Bedeaux, and finally we stopped at Limbo Project Space.
Turner Prize 2019 Finalists
Oscar Murillo
Incorporating painting, sculptural installation, video, performance and projects involving other people, Oscar Murillo 's work explore globalization and capitalism: exchange and movement, migration and community.
For the Turner Prize 2019 he presents an installation composed of three pieces: " Collective Coscience", the painting " The Institute of Reconciliation" and a painting by John Watson about migrants.
The most interesting part of the work to me was the fact that each one of the figures had travelled by train to reach the Turner Contemporary. In my opinion, in fact, the journey and its documentation were the parts that reflected better the issues that the artist was addressing, such as the current political and socio-economic situation the UK is facing now.
Lawrence Abu Hamdan
Lawrence Abu Hamdan creates audio-video installations, audio-archives and performances exploring the relationships between sound, listening, language and truth.
For the Turner Prize 2019 he presents a sequence of three works based on researches exploring earwitness testimony. His work, in fact, investigates crimes that have been heard and not seen, exploring the process of reconstruction, the complexity of memory and language as well as the urgency of human rights and advocacy.
I am really impressed by the work of this artists, its quality, the amount of time spent on researches and the issues he addresses, which are so important and relevant to move forward in today's society. He has a brilliant way to show to the public the "stories" behind his pieces and he is able to find great artistic solutions in order to transmit them to the viewers.
Tai Shani
Tai Shani works with performance, film, photography, installation and sculptures.Taking inspiration from varied mythologies, histories and fictions, she creates dark and fantastical words which are full of utopian potential.
The new installation she chose to display for the Turner prize 2019 is part of her DC: Semiramis project and explores feminine subjectivity and experience beyond traditional gender constructs.
The installation was amazing: it felt like entering a whole different world. The overall thing did not make any logical sense but it seemed like every single object and detail had to be in the exact position they were in space. Also I thought that having a video playing and constant sound through headphones really helped to focus on the piece and to create a certain atmosphere.
Helen Cammock
Using film, performance, printmaking, and photography, Helen Cammock's work explores the relations between histories and places, past and present and between herself and her subject.
For the Turner prize 2019 she is showing "The long Note", a film that explores the overlooked role of women in the civil rights movement in Derry, Northen Ireland, in 1968.
Unfortunately I did not have much time and, since the film was pretty long, I could not see it entirely and neither spend enough time with the piece to able to reflect on it. The part of the video I saw was interesting but not enough engaging, still if the idea behind it was very good.
Gossamer Show
After the Turener Contemporary we visited Gossamer, a group show curated by Zoe Badeaux at Carl Freedman Gallery. The show exhibited the work of 22 international artists who had decided to use tights in their artistic practice.
It was interesting to see this material, which has been constructed to function around intimate parts of the female form, gaining other functionalities and incorporating new political messages. Also this specific material has such a unique aesthetic that gives the pieces a weird soft texture and delicacy which bring meaning to the artworks.
Limbo Project Space
Finally we went Limbo Project Space, where we met the artist and curator Chiara Williams in her studio followed by a talk at Crate Space with its director, Jo Murray.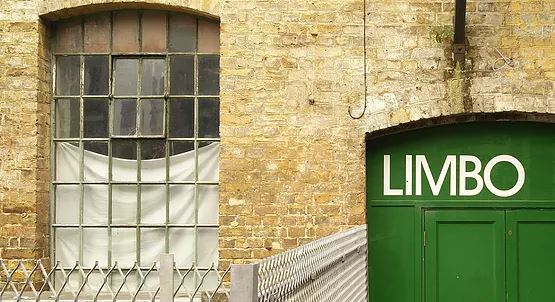 The scope of the Limbo project Space is primarily to support the practice of its studio artists, offering them a valuable space in which to test ideas, expand research, show their artwork, and hold critiques.
It was particularly inspiring to see the places where artists developed their work and researches and how they shared their spaces with others.